Renogy Or Battle Born Batteries? Who Is The Winner With Lithium Batteries?
12 volt Lithium batteries are becoming more and more popular and two main companies that are making them right now are Renogy and Battle Born.
Renogy started in Louisiana while Battle Born is in Reno, Nevada, where it designs and assembles its batteries.
Renogy's 12V 100Ah smart lithium iron phosphate battery and Battle Born's 100Ah LiFePO4 battery are what I am going to review and compare in this post.
Related Product: Renogy and Battle Born batteries are great, but I highly recommend the LiTime 100Ah 12V Lithium battery (click to view on Amazon). It performed very well in my tests, and sells for an affordable price.
A big reason that lithium batteries are becoming more and more popular is that the prices of lithium-ion batteries are becoming very affordable, and research says that it's expected to keep going down in prices with an annual rate of 6.5% for the next decade.
That is great news for us solar addicted people, who need batteries to store our generated power.
Today I am going to review and compare the two lithium battery market leaders in the United States.
These deep cycle lithium batteries are especially popular with RV travelers that need lightweight batteries with a lot of capacity.
Lead-acid deep cycle batteries are the standard on RVs, but we all know how heavy and limited they are in terms of features.
I'll talk more about the benefits of lithium-iron phosphate batteries after the reviews and comparison.
Renogy Lithium Vs Battle Born Batteries Specifications Compared
BMS (Battery Management System)
Lithium-Ion Battery Cell Type
Continuous Charge Current
Continuous Discharge Current
100A (200A surge for 30 sec)
BMS (Battery Management System)
Lithium-Ion Battery Cell Type
Continuous Charge Current
Continuous Discharge Current
BMS (Battery Management System)
Lithium-Ion Battery Cell Type
Continuous Charge Current
Continuous Discharge Current
100A (200A surge for 30 sec)
A Review Of Both 12V Lithium Batteries
If you've ever researched solar panels, you've probably seen Renogy's products before. They've recently started making lithium batteries, and the model they call the Smart Lithium Iron Phosphate Battery is one of the latest batteries in the lineup, which is why it's the one I am comparing with the Battle Born battery.
With 100Ah capacity, a 100A continuous discharge current, a communication port, an auto-balance feature for connecting several batteries in parallel, and a built-in BMS (battery management system) it's a solid lithium battery that would make a battery in any off-grid solar setup.
Weighing 26 pounds, it's a much lighter alternative to the standard lead-acid deep charge batteries like the 100Ah lead-acid AGM battery, which usually weighs around 60-70 pounds.
Another great thing about lithium is that you can use much more of the battery capacity without damaging the battery in the long run.
The rule of thumb is to not let your lead-acid battery go below a 50% state of charge. With lithium batteries, the recommended minimum is 20%.
The Renogy 100Ah 12V Smart Lithium battery is even lighter than some other lithium batteries with the same battery capacity, and this is because of the use of pouch battery cells, instead of cylindrical found in most other products.
Its maximum continuous charging current is 50A, and discharge current 100A.
You can connect several batteries in parallel to increase your battery capacity.
Unfortunately, you can't connect these Renogy batteries in series to combine the voltage for a 24V or 48V setup. That is something that is going to matter if you plan on using the battery with a powerful inverter.
Renogy advertises a cycle life of 4000 cycles to 80% which is great compared to lead-acid batteries, and common for high-quality lithium batteries.
The battery measures 11.4 by 6.8 by 7.4 inches and it has an IP54 protection rate.
The terminal rings on the battery are M8 size and Renogy has made the battery box easy to open up.
The Nevada company Battle Born Batteries has showed up everywhere lately, and the one product usually in the spotlight is the Battle Born 100Ah 12V LiFePO4 Deep Cycle Battery.
They've come a long way by helping YouTubers install lithium batteries on their campers while selling a product that is made with high-quality parts and put together by a team that knows what it's doing.
Battle Born also sell a 50Ah lithium battery that is very similar in terms of features, although not as powerful.
The 100Ah model has 100 amp-hours of capacity, uses the LiFePO4 battery chemistry, and is capable of 100 amps of continuous current going either in or out of the battery.
It also supports an impressive 200 amp of surge current for up to 30 seconds, and a 1/2 second surge for even higher loads.
Battle Born advertises 3000-5000 cycles to 75-80% capacity. Of course, the number of cycles will depend on how fast you charge/discharge the battery and other factors.
But even 3000 cycles to 75% is a lot better than a lead-acid battery which provides between 200-300 cycles before sharply declining in battery capacity.
The high number of cycles is one of the biggest reasons to go with lithium instead of lead-acid batteries. Lithium batteries last longer and the cost over time is lower.
Battle Born's 100Ah battery measures 12.75 by 6.8 by 9 inches.
Do They Perform As Well As The Companies Advertise?
Capacity Test (10A and 20A discharge test)
Renogy
The result of the Renogy capacity test ended being 106Ah in both tests.
That is more than what it's rated at, so Renogy put extra batteries in this model, just like Battle Born.
Battle Born
The Battle Born ended up at 111Ah and 110Ah, which is 11/10Ah more than what it's rated at. That's awesome.
Inverter Test (Continuous 1500W load)
The BMS in the Renogy battery shut off the current within 10 seconds, while the Battle Born lasted about 33 seconds.
If you plan on powering anything that requires more than 1200W, I suggest buying a larger battery with a higher maximum discharge current or connecting two batteries in parallel.
For example, with a 2000W inverter, you're going to need at least 166A. Two of either of these two batteries wired in parallel can output that.
Make sure you use at least 4 gauge wire no longer than 3 feet if you plan on getting a 2000W inverter.
BMS Tests
The Battery Monitoring System protects the battery in several ways. To test this, I tested every feature that Renogy and Battle Born advertise their BMS has.
Both of them passed all the tests, but the Renogy has one more built-in protection feature
Both are capable of and passed:
Over-voltage protection – Prevents overcharging
Low voltage protection – Prevents the voltage from reaching low voltages that can cause more permanent damage on the cells
High temperature charging – Prevents charging in temperatures above 131°F (55°C)
Low temperature charging – Prevents charging in temperatures below 32°F (0°C). Discharging still possible down to -4°F (-20°C)
Short circuit protection – Prevents short circuits
The one difference
Charge/discharge current protection – Prevents a high charge/discharge current
The BMS in the Battle Born has the high current discharge feature, but not any high charging current protection. It's rated at 100A though, which is twice as much as the Renogy.
The Renogy has both, but it has a 50A continuous charge current rating.
I don't recommend exceeding the 50A current with either battery though.
How Renogy Lithium Compares To
The Battle Born Battery
The biggest difference between the two is the weight and the maximum charging current.
While both are lightweight compared to lead-acid batteries, the Renogy smart lithium battery weighs 26 pounds versus Battle Born's 31 pounds.
Renogy maxes out at 50A continuous charge current, while Battle Born can handle up to 100A.
Both can discharge at 100A continuously. What this means is that it can handle 1200W at 12 volts until the battery is empty.
The difference between the two won't make a huge difference unless you have a large solar panel farm and want to input more than 50A at 12V.
If you have over 8 or more 100W solar panels, you'd want to go with the Battle Born.
This is most likely because of the pouch cell batteries used by Renogy that are more lightweight than the cylindrical batteries in the Battle Born.
It's also possible that the Battle Born has slightly more battery capacity. Although it's a 100Ah, I believe Battle Born has put a couple of extra batteries in there to make sure that every single battery they send away is capable of at least 1200Wh capacity.
Another big difference between the two is Renogy lithium batteries don't support a series connection.
If you would like to increase your battery capacity, you're going to have to parallel connect them.
Battle Born allows both series and parallel, so if you want the option to go 24V or 48V in the future, Battle Born is the way to go.
They're very similar in terms of lifecycles, where Renogy advertises 4000 cycles, and Battle Born 3000-5000.
Of course, how many lifecycles you get out of your battery depends on how you use it.
A battery charged/discharged relatively fast 5000 times will be in worse shape than one that been charged/discharged the same time but slower.
Lithium batteries last longer if you take good care of them. Michael Kassner has written a good short post about this over at TechRepublic where he also shares what you should think about.
What I Like And Dislike About Both Models
I like that both are lightweight compared to lead-acid batteries with similar capacities. It's also great that both have a solid BMS to protect the battery and everyone that use these batteries.
I dislike that neither of them has any self-heating functions. Both companies sell newer models with this type of feature, but I have not tested them.
If you plan on buying one, I recommend going for the newer models for that reason.
Renogy
I like that the Renogy battery supports parallel connections, but that it doesn't support a series configuration can be a deal-breaker for some.
It's five pounds lighter than the Battle Born, which adds up when you add more batteries.
Battle Born
Battle Born has great customer service, is a true American brand, and stands behind its products to 100%. The reason I mention this is that Renogy's customer support can be so so.
There is support for both parallel and series connections, which makes them more versatile.
The cylindrical
The Conclusion, Which One Is The Best?
Both the Renogy smart lithium battery and the Battle Born LiFePO4 battery are incredible lithium batteries.
If you're creating a relatively large solar panel farm with 8 panels or more, I would go with the Battle Born LiFePO4 battery.
The Battle Born is also better since it allows you to connect several batteries in either series or parallel.
So the conclusion is, both are great batteries, but if you want to have the option to expand in the future by connecting several batteries in series, I recommend the Battle Born LiFePO4 battery.
How Many Watt-Hours Does A 100Ah Lithium Battery Have?
The nominal voltage of these 100Ah 12V batteries is usually around 12.8, which equals 1280Wh.
What Is A Good Starter Setup With A 100Ah Lithium-Iron Phosphate Battery For An RVer/travel trailer camper?
A good way to get started with solar would be with a lithium battery. Both the batteries we've reviewed today are excellent choices.
Here is what a small setup could look like that will allow you to run everything in your RV camper except for the microwave, AC, and water heater on electricity.
Note that there is more to it than just putting the parts together. You're going to need fuses and make sure that the wire used is thick enough to handle the amperage. I recommend watching this video by Will Prowse if you're considering doing a DIY solar install.
1.Battle Born LiFePO4 Deep Cycle Battery – The battery is the heart of the setup. A 100Ah battery would give you around 1280Wh to work with. Two batteries wired in parallel would double that while also increasing the maximum output current.
Battle Born also sells a kit with the Victron battery monitor so you can monitor your battery's state of charge, time to go, and power consumption in watts.
2. Victron SmartSolar Charger – When charging lithium batteries, you want to make sure your charge controller supports it.
Battle Born recommends Victron chargers and has written a guide about how to set up their batteries with this specific charge controller, click here to view that guide. The 1000/30 charge controller supports up to 450W of solar at 12V.
3. Renogy 100W solar panel – These 100W monocrystalline solar panels from Renogy are great solid and durable panels. The Victron charge controller supports up to four at a 12V configuration.
Mounting solar panels to the roof of an RV with a solar panel mounting kit, although I recommend using an adjustable tilting kit so you can improve the charging efficiency during the winter months.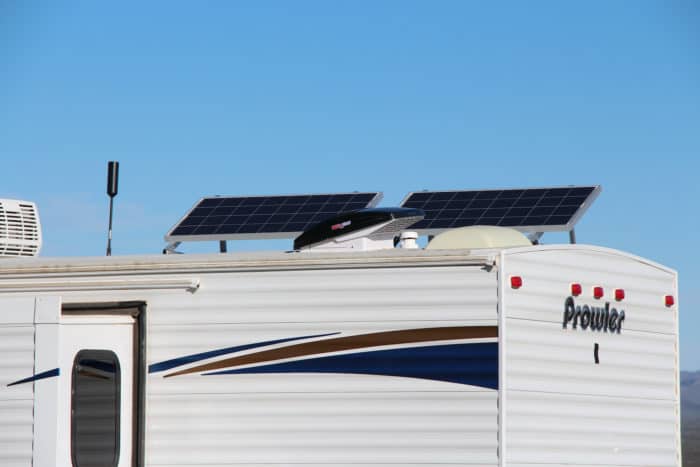 If using a parallel connection (which I recommend) you would combine two panels with a No products found.. These also come in larger sizes if you want to connect three panels or more.
Besides solar panels and batteries, you can use an inverter to power regular 120V devices.
There are some more feature-packed inverters out there that can also help charge your 12V batteries when you're plugged into the grid.
An example of that is the Victron MultiPlus.
If you're going to power anything that requires more than the 100A both of the batteries can output, you're going to need more than one battery. Two in parallel, for example, would increase that limit to 200A (slightly less).
For a small starter setup for a camper, I would recommend something smaller just to get started. Like the Renogy 1000W pure sine wave inverter.
This would let you use everything in your camper except for your AC, microwave, and water heater on electricity.
Where Are Battle Born's Lithium Batteries Made?
Battle Born Batteries are in Reno, Nevada, where they design, put together, and test their batteries.
What Is A Good Charger For A 12V 100Ah Lithium-Iron Phosphate Battery?
A good solar charge controller for a 12V lithium battery is the Victron SmartSolar Charger. Battle Born recommends Victron and has a guide on how to set it up for their batteries.